Facial Rejuvenation/Lift
Our approach to facial rejuvenation is different from the standard facelift. We perform a specialized facial rejuvenation that is artistically tailored for each patient's individual needs and desires. Our specialty is to give each patient a very natural and more rested, youthful appearance. With facial rejuvenation from our board-certified plastic surgeon, Dr. Patrick K. Sullivan can dramatically reduce signs of age in the face with results that look beautiful and natural.
Turning Back the Clock
Facial rejuvenation can't stop the aging process. What it can do is "turn back the clock," improving the most visible signs of aging by removing excess fat from the neck and jowl area, tightening and lifting underlying tissues back into a more youthful position, sculpting, enhancing cheek bones, and redraping the skin of your face and neck. Facial rejuvenation is done under intravenous sedation with an overnight stay in a recovery facility with our private nurse. Although there will be some bruising and swelling after the procedure, this will typically fade significantly in about 2 to 3 weeks (see "The Kindest Cut"). The final results from facelift surgery is usually most apparent after 4 to 6 weeks, or sooner, with continued improvement for several months.
It has been just over one year since my rejuvenation and I am feeling wonderful. My 32nd high school reunion is this weekend (we are celebrating our 50th birthdays!) and this gal is gonna shine. My best to all, and appreciation.
Name omitted for patient privacy
Facts on Facial Rejuvenation
Facts on Chin Augmentation

Additional Facial Rejuvenation Procedures
Additional procedures that may enhance the results include: forehead rejuvenation, eyelid surgery, nose reshaping, earlobe reduction, or placement of fat and stem cells into areas of the face to enhance lips, cheeks and jawlines or to fill in deep creases.
A Video Journey through Dr. Sullivan's Approach to Facial Rejuvenation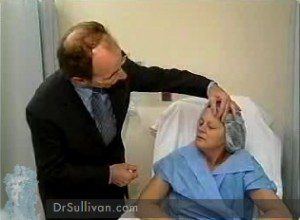 Segment 1: Meet Pam
"I always said to myself that when I got older, I would want to age like Katherine Hepburn"-Pam, actual patient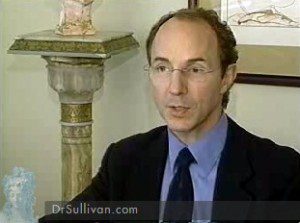 Segment 2: The Procedure
"I try to handle each person very much as an individual and that takes a lot of planning."-Dr. Patrick Sullivan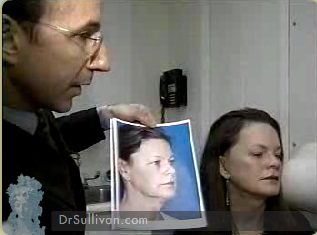 Segment 3: The Results
"I think it's made me feel more confident and energetic. It feels natural and Dr. Sullivan did a really beautiful job in maintaining my character."-Pam, actual patient
Please contact Dr. Patrick K. Sullivan to schedule a consultation for facelift surgery in the Rhode Island area. We will be happy to answer any questions you may have. If you would like to view more actual patient results, please visit our facial rejuvenation gallery.
Karen had lost a significant amount of weight and was working hard trying to get into great shape. She is a ballroom dancer and has a tremendous amount of energy. She wanted her face to reflect the energy and youthfulness that she felt on the inside.